Celebrating Colonists Day 2014 are, from left, Mark Hogate, Donn Draper, Aleasa Hogate, descendant of Anders Larsson Dalbo 1640, Donna Draper's granddaughter, Bill Hutchinson, portraying Peter Minuit, and Chief Dennis Coker of the Lenape Tribe. Check out the video of Colonists Day 2012 on this page, below left.
News briefs
Springfest, the annual celebration of the Swedes' arrival in 1638, will be held April 17 in Fort Christina Park in Wilmington, Del. The day-long event, formerly called Colonists' Day, is sponsored by regional history groups, including the New Sweden Centre, and offers activities, entertainment and food for adults and children.
First State National Historic Park, the nation's newest national park in Delaware, is expanding its activities to include grants to take school children on field trips to cultural and heritage sites. Click here for more on park developments.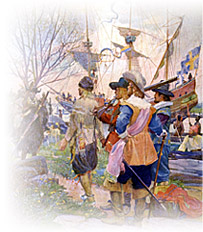 "The Landing of the Swedes" by Stanley M. Arthurs depicts the first contact in 1638 between the Swedish settlers and Native Americans. The meeting took place along the Christina River in present-day Wilmington.
The image is made possible through the generosity of the Permanent Collection of the University of Delaware
Click on the logo or name to visit us on Facebook
New Sweden Centre
TEL 302-429-0464
FAX 302-746-6755
Email: info@colonialnewsweden.org

Mail-Business Address:
New Sweden Centre
PO Box 12001
Wilmington, DE 19850

Tours/visits by appointment:
Please call 302-429-0464
to schedule a visit

Click on the logo to go to the website of our partner, The New Sweden Alliance.